Eco Cosmetics Hand cream with Echinacea and Grapeseed oil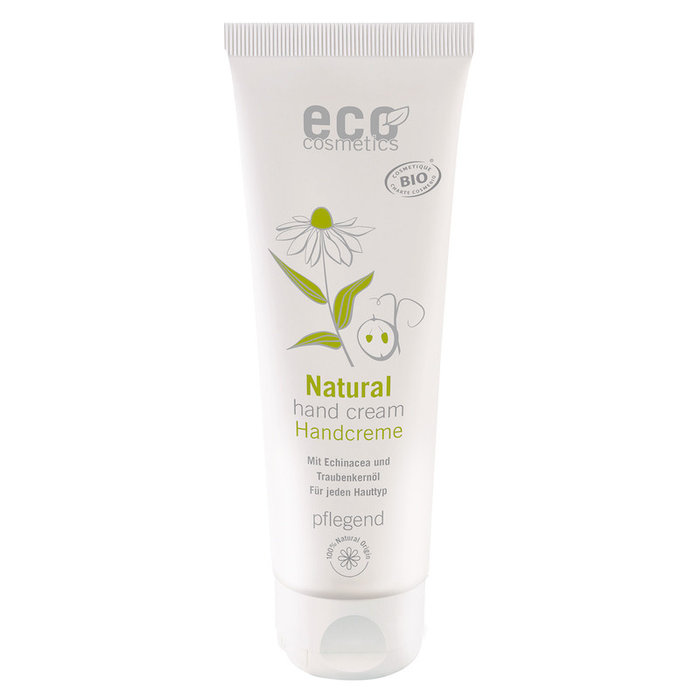 - Nourishes and protects
- With echinacea, grapeseed oil and squalane

Eco Cosmetics Hand Cream contains echinacea and grape seed oil. The cream is non-greasy and smells pleasant. Echinacea protects against external influences, it helps with minor injuries. Squalane moisturizes the skin. An intense and long-term care.
Use: As needed.
Ingredients:Echinacea Purpurea Extract *, Caprylic / Capric Triglyceride, Glycerin, Alcohol, Simmondsia Chinensis Oil *, Hydrogenated Coco Glycerides, Lecithin Hydrogenated, Butyrospermum Parkii Butter *, squalane, Punica Granatum, Extract *, Cocos Nucifera Oil *, Vitis Vinifera Seed Oil *, Xanthan Gum, Tocopherol, Parfum, Limonene, Linalool, Citronellol.
* From organic farming
100% of the total content substances are of natural origin.
99.80% of the vegetable ingredients are certified organic.
20.50% of the total ingredients are from certified organic cultivation.
Eco Cosmetics Hand Cream is 100% natural, produced CO2 neutral, Ecocert certified, vegan and not tested on animals.
Contents: 125 ml
Reviews
Posted by: B. Roelofs on 7 January 2023

Een fijne handcrème, zeker voor deze prijs. Smeert makkelijk uit en voelt niet vet aan. De geur vind ik persoonlijk niet zo lekker maar is gelukkig niet heel sterk waardoor het niet storend is.

Smeert makkelijk uit.
Niet duur.
Niet vet.
Create your own review