Flow Cosmetics Hemp Shampoo Bar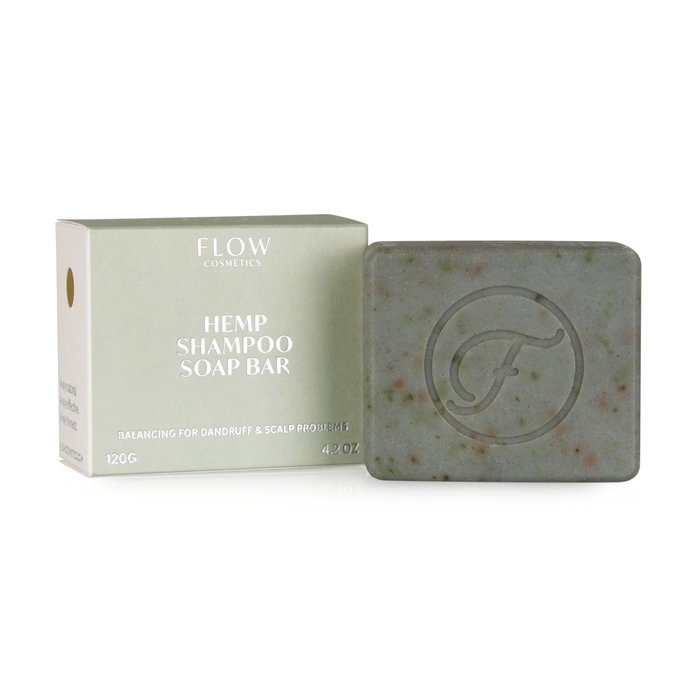 - shampoo bar for the problematic scalp
- with hemp and tea tree-oil
- suitable for everyday use
- economical in use, lasts up to 80 washes
Flow Cosmetics Hemp Shampoo Bar is specially designed for people with a problematic scalp, such as itching, dandruff and irritation. Finnish cold pressed hemp oil (rich in omega fatty acids), organic ethereal tea tree oil and nettle soothe the scalp. This shampoo is moisturizing, soothing and cleanses the hair deeply. The shampoo bar is suitable for all hair types, including slightly oily hair. If you have very greasy hair, we recommend the teatree shampoo bar. The mild earthy scent comes from organic vegetable oils, herbs and essential oils. 
Usage: Gently rub the bar on the hair to produce lather or let the bar lather in your hands and then apply to the hair. If the foam does not form properly, rinse the hair and repeat soaping. Use warm water to thoroughly clean the hair. Don't forget to also apply foam to the ends of the hair.
When using Flow Cosmetics organic hair products for the first time, your hair may feel sticky or oily at first. This reaction will usually disappear after about 1-10 washes. This is due to neutralizing the PH value of your scalp and hair. Our organic ingredients ensure that all chemicals are removed from your hair and scalp. 
After shampooing, use the intensive conditioner bar and luxurious hair mask coconut milk to optimally care for your hair. To still experience the fine smooth feeling we recommend Flow hair rinse as a conditioner. This gives a great shiny and soft result.
Tip: Store the shampoo bar in a soap dish. If the shampoo bar gets wet, it becomes soft and can melt.
Ingredients: Sodium Cocoate*, Sodium Hempseedate*, Glycerin*, Aqua**, Sodium Castorate*, Cocos Nucifera Oil*, Montmorillonite**, Charcoal Powder**, Melaleuca Alternifolia Leaf Oil*, Urtica Dioica Leaf*, Cedrus Atlantica Wood Oil*, Cassia Angustifolia Leaf*, Vetiveria Zizanoides Root Oil*, Rosmarinus Officinalis Leaf Extract*, Helianthus Annuus Seed Oil*, Limonene***
* Wild grown or certified organic ingredient
**Ecocert/COSMOS approved ingredient
*** Appear naturally in essential oil
The shampoo bars of Flow Cosmetics are 100% natural and 100% organic, Ecocert/Cosmos certified, vegan and free of animal testing. The shampoo bars are plastic free packaged, the cardboard box can be put in the paper tray.
Contents: 120 gram
Reviews
Posted by: Bert on 25 November 2020

Werkt en bevalt erg goed. Geen jeuk en schuimt lekker. Ik gebruik het samen met de conditioner bar. Gaat maanden mee met dagelijks gebruik. Je kan het blok echt helemaal opmaken.
Create your own review