Kia Charlotta Nail Care Repair & Strength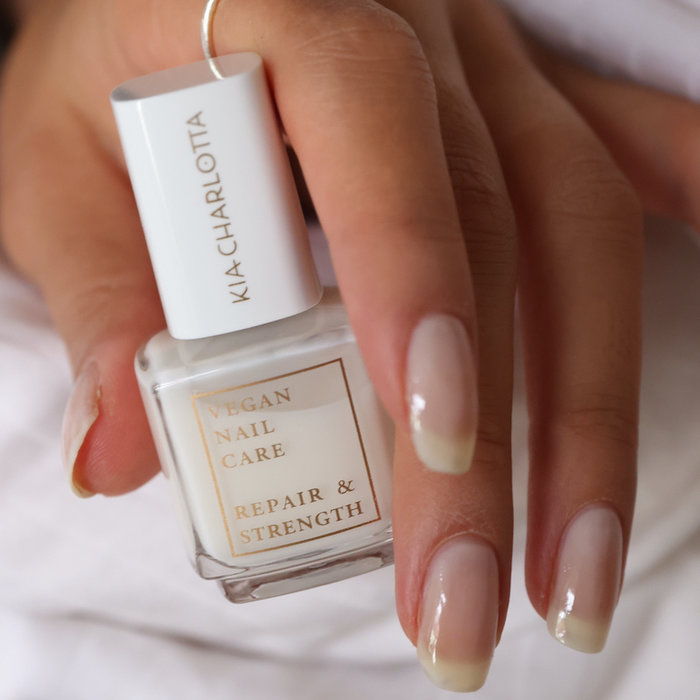 - light transparent shiny nail hardener with kaolin
- 100% vegan
- 87% natural
Kia Charlotta is a nail hardener and a must have for healthy and strong looking nails. The 87% natural formula with kaolin not only gives your nails a shiny finish, but also helps your nails look and feel stronger with a beautiful healthy glow. The rich texture of this repair & strength nail polish fills in all ridges and uneven surfaces making it the perfect base coat to wear alone for a more polished natural manicure or before applying a color of nail polish if your nails feel brittle and brittle.
Use: This nail strengthener (also called nail hardener) is a product based on nitrocellulose and solvent (so yes, it also smells like nail polish) and is therefore applied in the same way as a nail polish or top & base coat. We recommend applying one coat or two very thin coats evenly on your nail bed until your nails look natural and smooth and any imperfections are hidden. We do not recommend applying two coats as it will give a more opaque finish and make the nails look more white than natural. If you have particularly brittle nails, we also recommend using this as a base coat before applying colored nail polish. With one coat, it takes about 2-5 minutes to dry.
Note: Keep the nail polish out of the reach of children.
Ingredients: Ethyl Acetate, Butyl Acetate, Nitrocellulose, Adipic Acid/Neopentyl Glycol/Trimellitic Anhydride Copolymer, Alcohol, Triethyl Citrate, Stearalkonium Bentonite, Diacetone Alcohol, Ci 77004, Maltol, Ci 77891, Phosphoric Acid, Aluminum Hydroxide, Triethoxycaprylylyltesilane.
Although nail polish can never be 100% natural, recyclable and/or biodegradable, Kia Charlotta has done its best to develop the most environmentally friendly version of nail polish. They have achieved this by developing a nail polish with the following properties:
- 100% vegan according to "The Vegan Society"
- Animal tested free registered according to "PETA"
- Made with 100% vegetable solvents (petrochemical solvent free)
- Made with up to 87% natural ingredients
- 14 'Free' formula
What does made with up to 87% natural ingredients mean?
The basis of all '15 Free' colored nail polishes is the same, the only thing that differs within the shades is their pigments, ie what gives them their color. There are natural pigments such as mica and there are synthetic pigments. Both types of pigments are used in our nail polish, sometimes more and sometimes less, which ultimately determines whether a color is 87% natural or, for example, 82% natural. Our nail polishes average 85% natural, meaning most of the base is natural.
What does the '14 Free' formula mean?
The nail polishes are free from the following 14 ingredients: Phthalates (including Dibutyl Phthalate (DBP), Diethylhexyl Phthalate (DEHP)), Toluene (also: Methyl Benzene), Xylene, Camphor, Formaldehyde, Formaldehyde Resin, Ethyl Tosylamide, Triphenyl Phosphate, Resin, Organic Halogen Compounds (AOX) , parabens, silicones, fragrances, animal ingredients.
Kia Charlotta Repair & Strength is '14-Free' is 87% natural, vegan, cruelty-free and gluten-free.
Content: 11ml