Living Nature Sensitive Cleanser



15% sale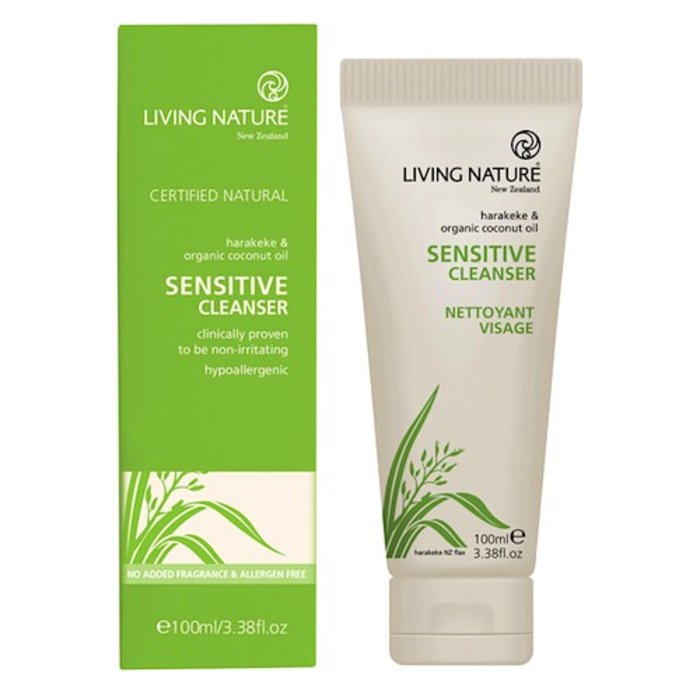 - For sensitive and very dry skin
- Also suitable for skin disorders such as psoriasis, rosacea and eczema
- Hypoallergenic, completely free of added odor and allergens
Living Nature's highly effective, clinically proven sensitive skin products are now available. The range offers a natural skin care solution for sensitive, very dry or compromised skin.
Living Nature knows that despite how soft their standard products, most still contain fragrances that can cause irritation in people with chronic skin conditions like eczema, psoriasis, rosacea, allergies or extreme sensitivity. They have now developed products completely free of added odor and allergens.
Living Nature Sensitive Cleanser is a soap-free cleaner with perfectly balanced ingredients that ensures an effective mild cleansing. Biological Virgin Coconut Oil and Harakeke Flax Extract provide anti-bacterial and advantages not irritate the skin.
Use: morning and evening cleanse the skin, then apply the toner sensitive and sensitive day or night cream.
Top ingredients:
Harakeke Flax gel - D-glucuronic acid and D-xylose are healing and moisturizing.
Organic Virgin Coconut oil - the medium chain fatty acids penetrate the cell membranes more easily and make the fabric strong and flexible. Lauric acid has antimicrobial activity and works against skin rash.
Olive oil emulsifiers - reinforce the barrier function of the skin and inhibit the penetration of allergens that cause inflammation. Reduce redness and soothe sensitive skin.
Ingredients: Aqua, Cocos nucifera (virgin coconut) oil **, Glycerin (vegetable glycerin) **, Cera alba (beeswax), Galactoarabinan (larch tree gum), Sucrose Cocoate, Xanthan gum, Cetyl palmitate, Phormium tenax leaf juice (NZ flax gel), Glucose, Decyl glucoside, Sorbitan palmitate, Sorbitan Olivate, Coco glucoside, Glyceryl oleate, Glucose oxidase, Lactoperoxidase. ** Certified organic.
Living Nature Sensitive Cleanser is 100% natural, BDIH certified and not tested on animals.
Contents: 100 ml