Aimee de Mars Goddess Belle Aphrodite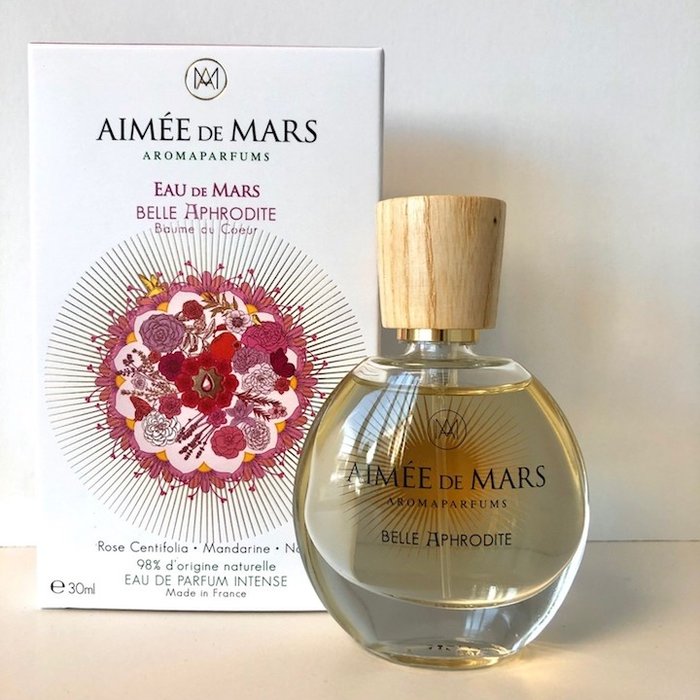 - sweet and floral eau de parfum
- with essential oils and harmonizing spring water from Saint-Genulphe
Aimée de Mars Goddess Belle Aphrodite is a perfume corresponding to the 4th chakra, Anahata or heart chakra. This pink colored energy center is located in the center of the chest. When properly harmonized, you can receive and feel unconditional love. It bridges the gap between your three lower chakras and your three upper chakras. Judge less and accept more. This sweet and floral perfume makes you feel unconditional love.
Valérie Demars is the master perfumer behind Aimée de Mars Aromaparfumerie® and forms the beneficial alliance between aromatherapy, olfactotherapy and pure perfumery.
The fragrances have an active heart of essential oils with an energetic power and give a soothing sensation for body and mind.
Top notes : Green mandarin, rose petals and maritime notes
Heart notes : Rose, candied raspberry, milky and powdery
Base notes : Vanilla, amberwood and nard
Ingredients : Alcohol, Aqua, Parfum, Eugenol, Cintronellol, Geraniol, Limonene, Linalool, Benzyl Benzoate, Citral, Coumarin, Benzyl Alcohol, Benzyl Cinnamate, Farnesol, Amour (love)
Aimée de Mars Goddess Belle Aphrodite is 98% natural, vegan and not tested on animals.
Content: 30 ml