Aimée de Mars Goddess Petillante Aurore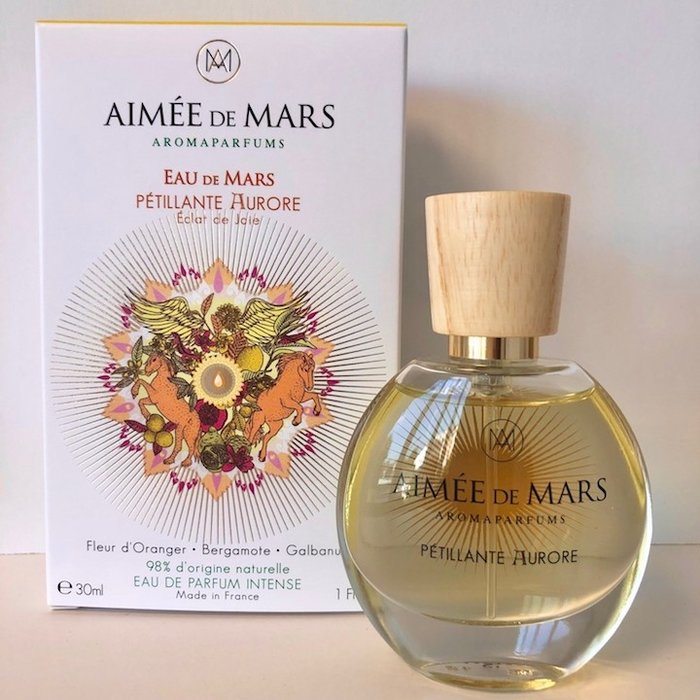 - fresh, energetic eau de parfum
- with essential oils and harmonizing spring water from Saint-Genulphe
Aimée de Mars Goddess Petillante Aurore corresponds to the 3rd chakra, Manipura or solar plexus chakra. This yellow colored energy center reflects your way of taking your place in the world and radiating your unique energy. It is also closely linked to your digestive system where 90% of serotonin (the happiness hormone) is produced. A fresh, citrusy perfume that incites action.
Valérie Demars is the master perfumer behind Aimée de Mars Aromaparfumerie® and forms the beneficial alliance between aromatherapy, olfactotherapy and pure perfumery.
The fragrances have an active heart of essential oils with an energetic power and give a soothing sensation for body and mind.
Top notes : lemon, bergamot and orange blossom
Heart Notes : Mint, Jasmine, Rose, Galbanum Resin
Base notes : Vetiver, cedarwood and cloves
Ingredients : Alcohol, Aqua, Parfum, Limonene, Eugenol, Citronellol, Geraniol, Linalool, Benzyl Benzoate, Citral, Coumarin, Benzyl Alcohol, Amour (love).
Aimée de Mars Goddess Petillante Aurore is 98% natural, vegan and not tested on animals.
Content: 30 ml
Reviews
Posted by: Jeannette on 12 May 2023


Ruikt lekker maar geur is snel verdwenen.

...

Ruikt lekker maar geur is snel verdwenen.

Read more

Read less

Posted by: Marianne on 15 December 2022


Fris en licht geurtje.

...

Fris en licht geurtje.

De geur is niet opdringerig.

Read more

Read less
Create your own review