Aimee de Mars Goddess Divine Isis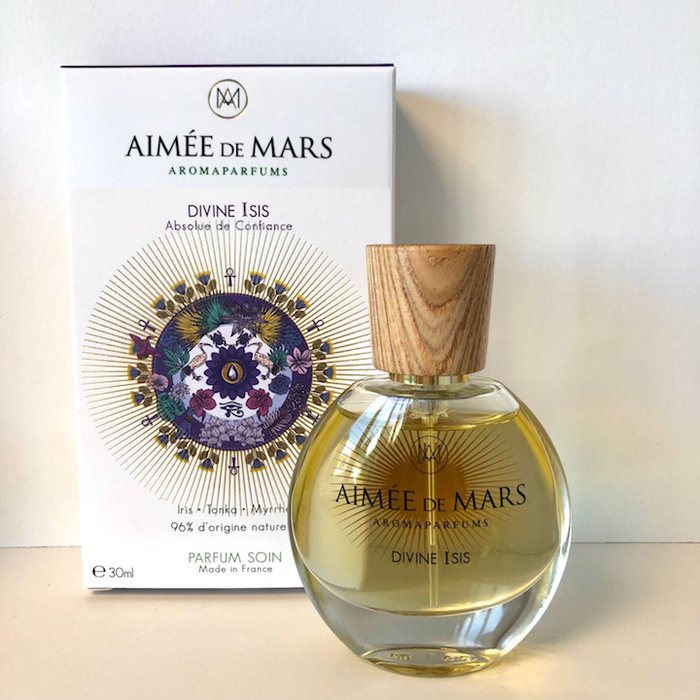 - powdery eau de parfum, with warm almond notes scent
- with essential oils and harmonizing spring water from Saint-Genulphe
Aimée de Mars Goddess Divine Isis activates the 6th chakra, Ajna or third eye chakra. This indigo colored energy center gives access to spiritual intuition. Through this chakra you develop a global vision of life. The sixth chakra is the place of encounter and awareness. This powdery scent boosts your confidence.
Valérie Demars is the master perfumer behind Aimée de Mars Aromaparfumerie® and forms the beneficial alliance between aromatherapy, olfactotherapy and pure perfumery.
The fragrances have an active heart of essential oils with an energetic power and give a soothing sensation for body and mind.
Top notes : Bergamot & Almond
Heart notes : Rose, ylang and myrrh
Base notes : Benzoin resin, tonka bean, iris and vanilla
Ingredients : Alcohol, Aqua, Parfum, Benzyl Salicylate, Limonene, Linalool, Coumarin, Benzyl Benzoate, Benzyl Cinnamate, Citronellol, Isoeugeneol, Geraniol, Benzyl Alcohol, Eugenol, Farnesol, Amour (love).
Aimée de Mars Divine Isis is 98% natural, vegan and not tested on animals.
Content: 30 ml