The Ohm Collection Deodorant Cream Royal Hemp & Ginger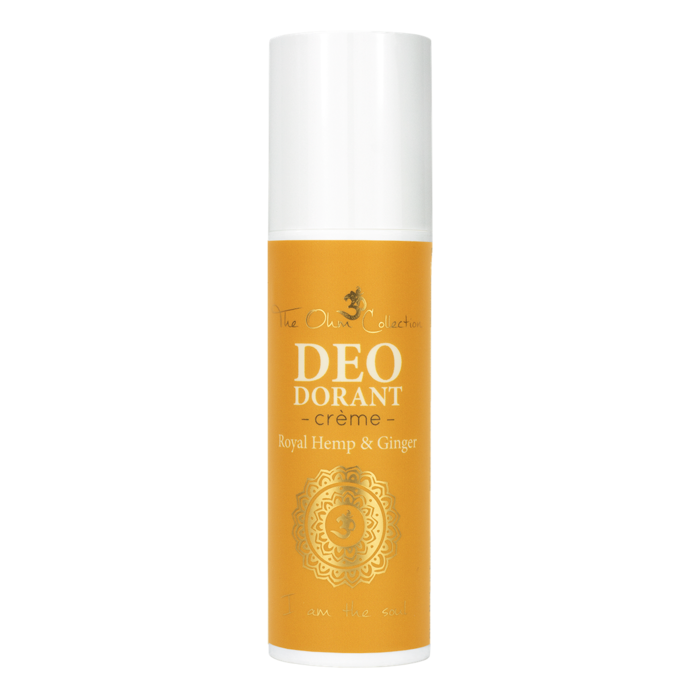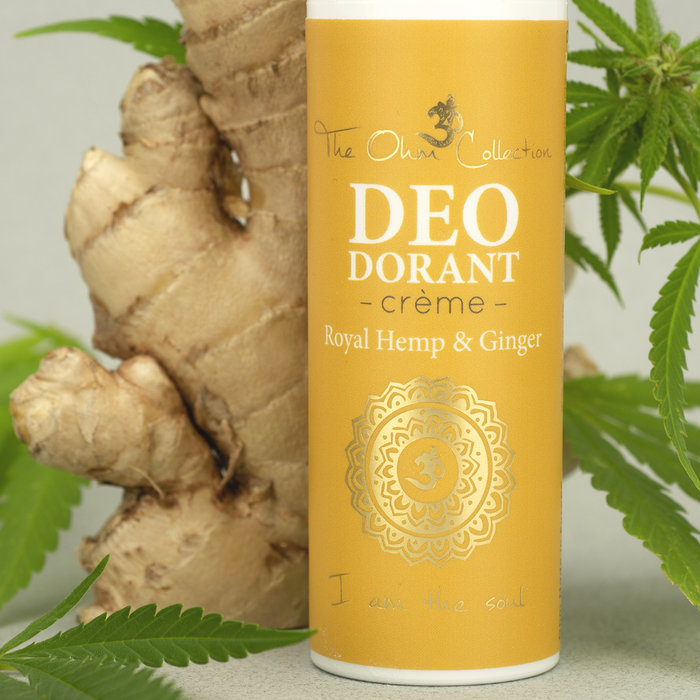 - safe cream-deodorant, aluminium-free
- suitable for sensitive skin
- for a long, fresh result
- very economical in use
- 1 package for 5 months
The Ohm DEOdorant Cream Royal Hemp & Ginger is a very effective and safe deodorant. It contains hemp seed oil and fatty acids, which not only rid the skin of inflammation but also soothe it and leave it feeling soft and supple. This makes this deodorant very suitable for people with dry itchy skin.
Ginger oil stimulates the lymphatic system, helping to strengthen the immune system. In addition, inhaling the rich ginger aroma helps relieve nausea. Suitable for ginger lovers and pregnant women.
Magnesium is involved in hundreds of processes in the human body and therefore plays an essential role in the performance of the body making it ideal for people who are active in physical activity. It is gentle on sensitive skin and prevents the growth of odour-causing bacteria. It also prevents clogging of the pores.
The cream formula of this deodorant can easily be applied by means of the handy twist-up pump, which gives the perfect and economical dosage every time. Thanks to the innovative packaging, the last drop is as clean as the first. The airtight bottle makes the use of synthetic preservatives unnecessary. This guarantees a long-lasting effectiveness and quality of this deodorant. 
Use: Apply a drop to the fingertips and apply to the desired spot. Leave to soak in well.
Ingredients: Water (Aqua), Magnesium Chloride, Maranta Arundinacea (Arrow root) Extract*, Gelidum Amansii (Agar) Extract, Cocos Nucifera (Coconut) Oil*, Butyrospermum Parkii (Shea) Butter, Theobroma Cacao (Cocoa) Seed Butter*, Copernicia Cerifera (Carnauba) Wax, Cetearyl Alcohol (Herbal Wax), Nigela Sativa (Caraway) Seed Oil, Magnesium Hydroxide, Zeolite, Zinc Oxide, Cannabis Sativa (Hemp) Seed Oil, Salvia Officinalis (Sage) Extract, Tocopherol (E vitamin), Litsea Cubeba (Litsea) Oil *, Xanthan Gum, Silver Citrate and Citric Acid, , Linalool**, d-Limonene**, Citral**, Geraniol**
*ingredients from certified organic agriculture
**From natural essential oils
The Ohm Collection deodorant crème Royal Hemp & Ginger is 100% natural, free of aluminium, GMO free, vegan and animal testing free.
Contents: 50ml